hey, I've been a flip phone guy until last month when they said they would not support it anymore and gave me a whopping smart phone! so, I connected a Bluetooth Rx streaming device optically to my music amp in the loft. wow! the sub-woofer and music quality streaming from my smart phone YouTube blows me away. the acoustic with 6 speakers at the edge of the loft is awesome! any time you can move speakers away from a back wall into the open is better for acoustics and the loft volume itself acts as an acoustic chamber. the addition of the loft has far exceeded my expectations. highly recommended! it is a small simple hangar, but it is becoming nicer and is a pleasure to be inside.
I'm getting ready to add some more light to my hangar. Box in the back blocked by the rudder.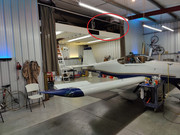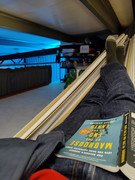 I look back and wonder how I built this plane with this low lighting, but I did.